I've been working on this fora while and decided to share the processes with other members. Hopefully this will become a technical article and other people can learn from my mistakes and hopefully improve on the process.
Ok then... This is a little thread about converting your 83-86 Nissan Pulsar Exa Turbo with rear drum brakes to the 84-87 Pulsar
ET rear disc brakes. you may or may not swap all the parts over, but my motives for doing so are outlined below.
I started out getting a complete back end out of an 86 ET. This includes the Rear swing-arms, disc brake hubs, calipers, back plates, adapter arms, hand-brake cables, hydraulic hoses and the ET swaybar and its inplace mounts. I also found a full set of ET front and rear calipers, back plates and adapter arms to use as spares and share with another member who is doing the conversion later..
My motives for getting the ET swing-arms when i knew that everything bolts onto the EXA swing-arms was decided apon because i am fitting wider rims and tyres in the process and the swing-arm seam (as everyone knows) is too wide and scrubs badly on the tyres...
It is also next to the fuel tank and the filler so i wasn't doing it on the car.. as i use the car daily and cant take it off the road for too long, i needed a spare set of arms to modify. It then became easier to get everything rebuilt off the car and just one day do the complete changeover.. 3 hour job and is fairly easy.. It also gave me the advantage of having arms with swaybar mounts on them... a decent upgrade to make the EXA handle 298 times better (you can quote K-Mac for that one.. lol)
Ok.. the first step was to work out how much swing arm to cut away.. I had all the rotors and calipers fitted to i placed it into the spare Mag i intended to use and spaced it out by 5mm.. I chalked out the areas and got to work stripping it all back...
This Image shows the swing-arms and the area that needs to be cut and welded..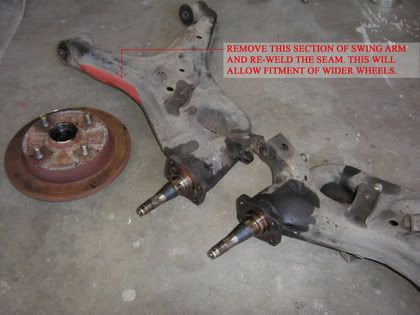 The next step was to strip it all down and start the cutting process.. Unfortunately my dad bot bored this day while i was at work and started and finished the arms while i was away... many thanks dad.. So what he did was, he used the Angle grinder with a small cutoff wheel and made perpendicular cuts along the seam. He then broke the little tabs of and cleaned it all up with the grinder.. After that he simply Arc'd the seam back together. I think it looks rather neat and also increases strength because it replaces 3 spot tiny spot welds with a continuout bead.. Well done Dad and may many thanks..
This image show the weld..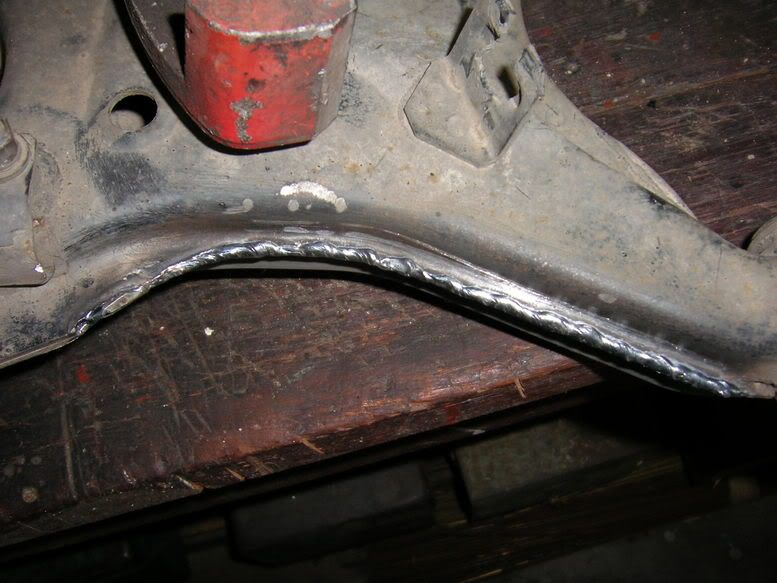 This image shows the weld and the adapter plate sitting on top.. this and the rotor/hub is the only parts that differ on the EXA and the ET... plus the caliper of course.. everything bolts on...
The next step in the game is to rebuild the brake calipers.. This is what they look like with the handbrake and hydraulic hoses attached.. pretty crappy condition, but and hour of cleaning and cleaning some more they were rebuilt with new seals and grease..
I'll spare everyone the details of pulling the brakes apart as i'm sure it will be easy.. they only have 3 moving parts.. lol...
I basically soaked them in Kero, scrubbed them with a hard paint brush then sand blasted them to a sweet finish.. After that i simply ran them over the wire buffing machine and polished them up.. good as new.. There are 2 seals that may or may not need replacing, better to just do it i think, then theres the piston and handbrake actuator (little 4x worm thread).
The following images are of the brake comming together, and then the last one is one down, one to go.. As you can see someone painted on of them red.. that took ages to clean off.. Also be carefull when sandblasting or buffing. make sure you protect the areas that need to remain smooth.
Before Cleaning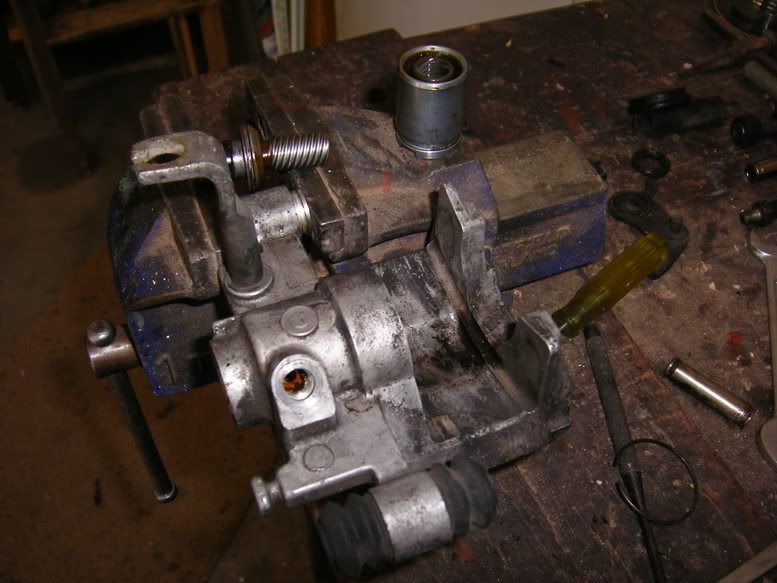 Underside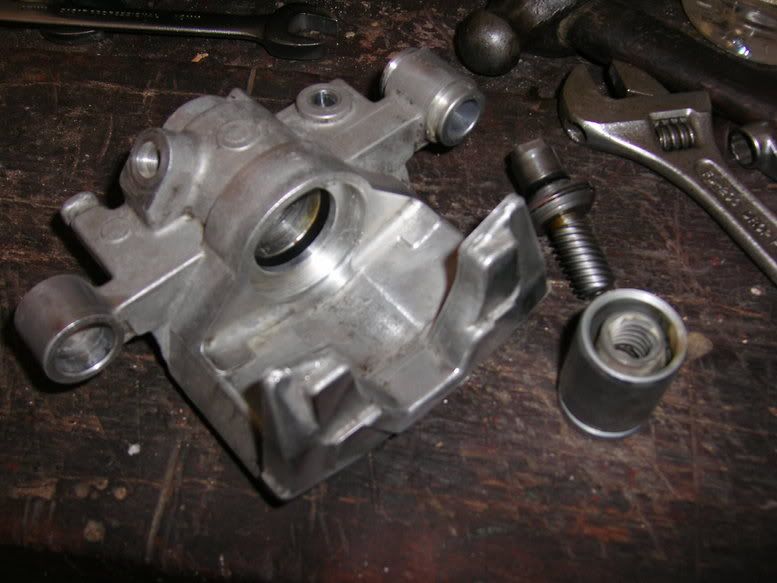 Topside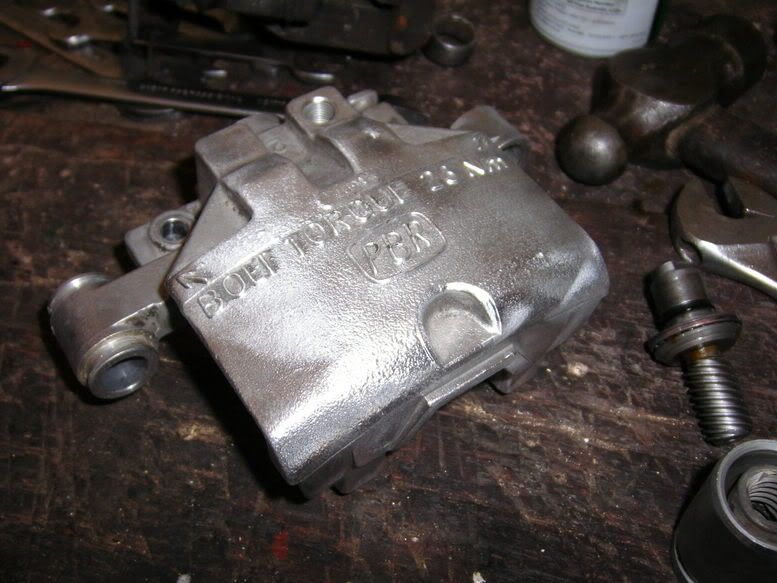 One down, one to go...
Well thats it for now, i'll post up stage 2 a little later this week.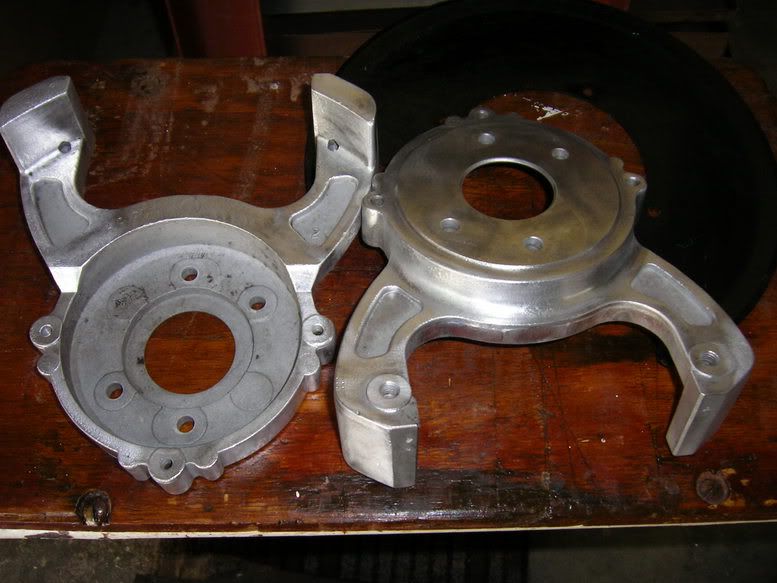 this is the Back plates ready to rock and roll..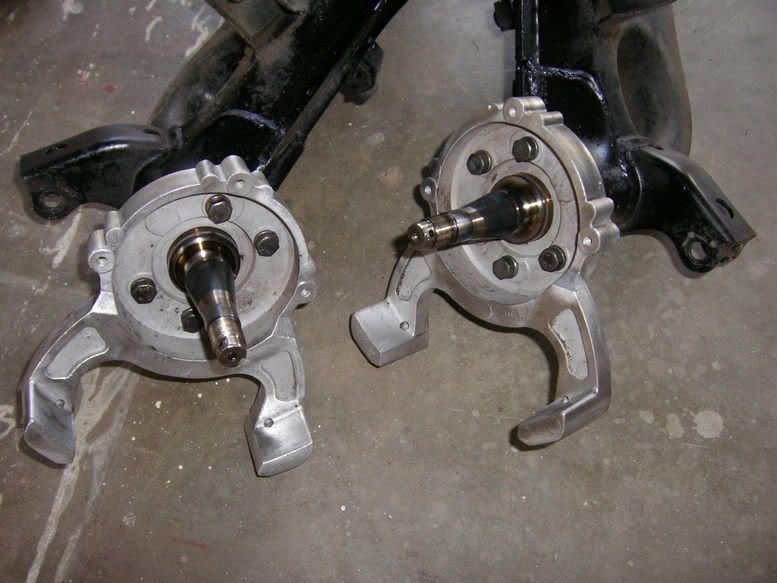 Back plates on the swing arms. and...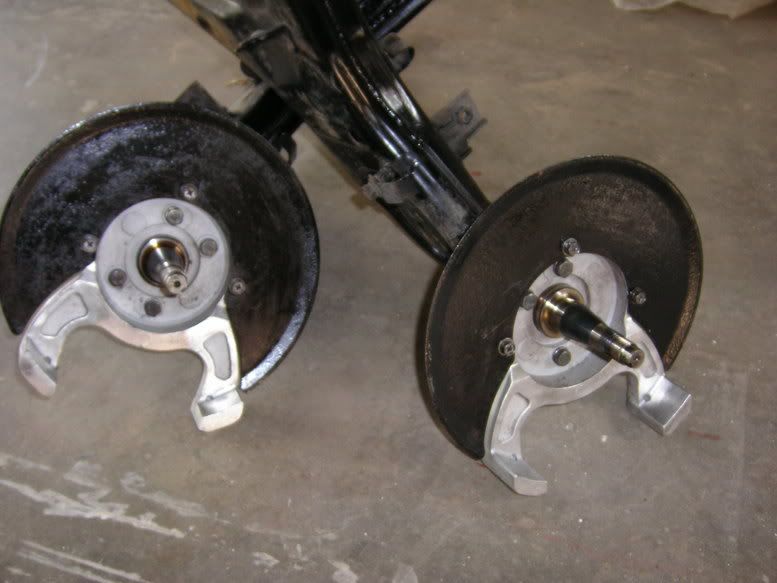 ...with the shrouds..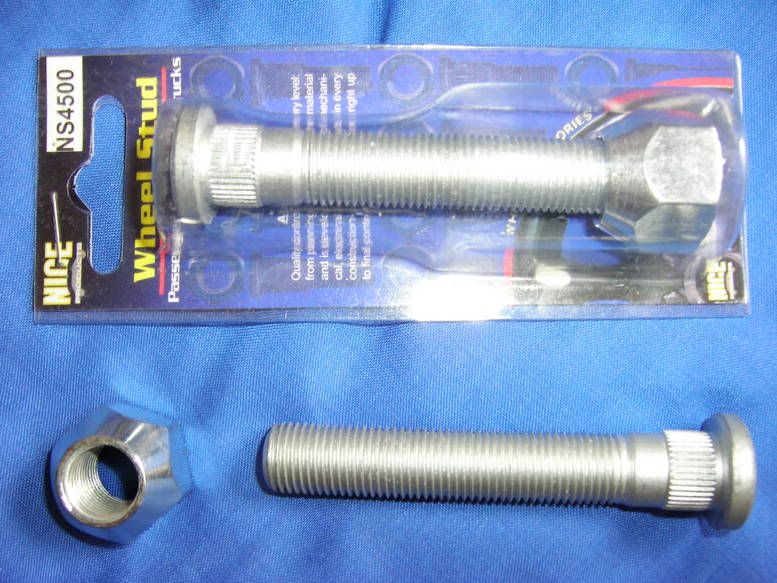 these are the longer studs you will need for the conversion.. they cost about $6-8 each. and will need to be cut down once on the vehicle.. NS#4500's...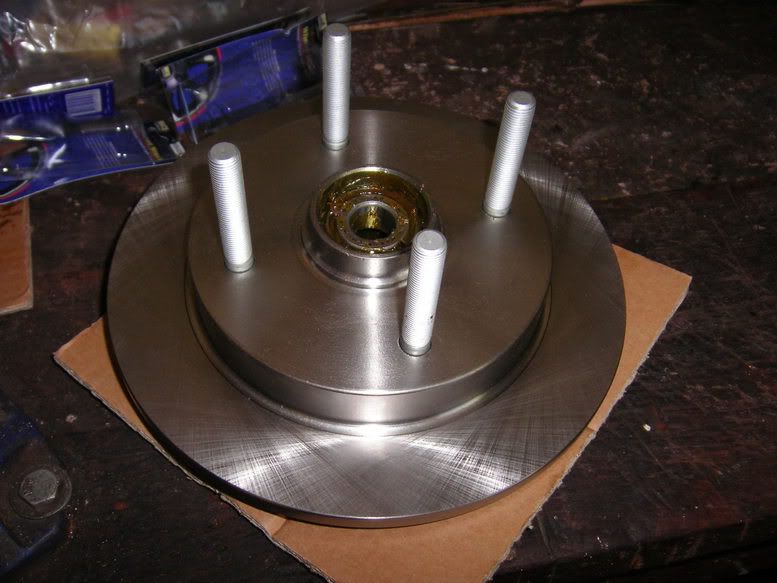 rotors ready to go.... stay tuned as i will install it all next week with the new brake hoses and mags..
Continued on
Part 2
...